The Girl in the Painting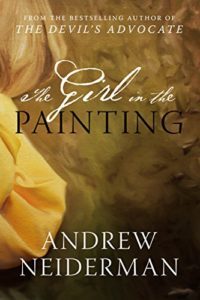 Newest novel by Andrew Neiderman is a thriller about a child abduction that nearly tears a family apart. The unusual clue that leads to a resolution startles the little girl's mother as well as everyone else. https://www.amazon.com/Girl-Painting-Andrew-Neiderman-ebook/dp/B073XPP77S/
The Incident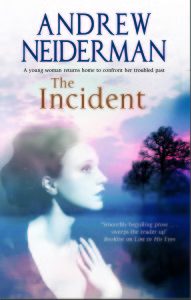 The Incident out in the U.S. on July 1, 2016 is the suspenseful story of a young woman, sexually attacked as a teenager in her small upstate resort community during the summer, returns after graduating from college and falls in love with a man who might hold the key to what happened to her and who had committed the crime. Unbeknownst to them both, the attacker is still out there, watching and waiting.  No romantic suspense novel can capture the importance of forgiveness and the power of love as well as this.  http://www.amazon.com/Incident-Andrew-Neiderman/dp/0727886096



Andrew Neiderman on Facebook daily
Lost In His Eyes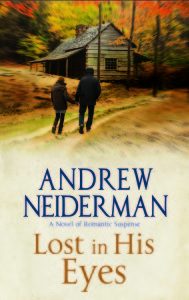 A California housewife begins an ill-advised affair – with devastating consequences.
Bored California housewife Clea Howard meets a handsome man in her local supermarket, and is instantly smitten. Knowing almost nothing about Burt Porter, she rushes headlong into a passionate affair without stopping to think about the consequences, nor to question how come the intelligent and charming Burt seems to know so much about her.
As the lies she is forced to tell family and friends in order to cover up the adulterous affair become ever more intricate, Clea's life threatens to spin wildly out of control. Who exactly is the mysterious Burt? And what is he really after?
Coming out August 28th in the UK and December 1st in the US. Click here to pre-order.
The Terrorist's Holiday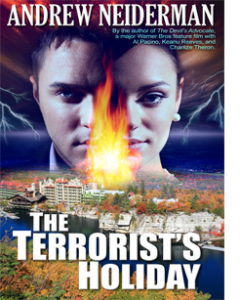 The Terrorist's Holiday by Andrew Neiderman, Open Road original
A New York City homicide detective races against the clock to stop a terrorist attack on a world-famous Catskill Resort during the Passover holiday
When NYPD Lieutenant Barry Wintraub starts investigating the murder of a Jewish Defense League member he stumbles on a terrorist plot to blow up the New Prospect resort in the Catskills.  Over a thousand heavy financial supporters of Israel will be celebrating Passover there with their families and the guest of honor—one of Israel's most important generals. Wintraub's partner and captain aren't convinced the plot exists, but the resort's owner acknowledges the detective's hunch and invites him and his family to the New Prospect for the celebration.
The Terrorist's Holiday presents a unique take on radical terrorist plots—for the two terrorists, a handsome young man and his beautiful girlfriend, are morally challenged themselves by what they are about to do… and realize, perhaps too late, that an even more deadly threat awaits all who visit the world-class resort.
"When it comes to intrigue, conspiracy, double dealing, and uncontrollable mayhem at famous Catskill resorts no one takes thrillers to an extreme better than Andrew Neiderman….Let us all pray that Andrew's genius imagination never translates to reality." – Tania Grossinger, author of Growing Up at Grossinger's
Sister, Sister – How an Ebook on Amazon.com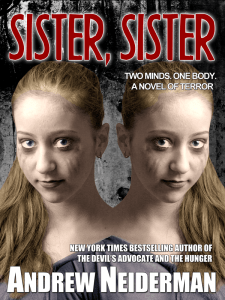 Best-Selling Novelist Andrew Neiderman
Andrew Neiderman is the author of 44 thriller novels and one book of history. His 34th novel, THE BABY SQUAD, received rave reviews printed in Plot Synopsis. It was published in August of 2003. His 35th novel, DEFICIENCY was published fall of 2004. In 2006, he published Finding Satan, which is now in feature film development and in 2007, he published Unholy Birth, described as the new "Rosemary's Baby." In 2007 Severn House published Life Sentence in both England and the USA. Severn House will publish Deadly Verdict in June of 08. Six of his novels have been adapted into television and feature film, including the mega hit THE DEVIL'S ADVOCATE. One novel, TENDER LOVING CARE was adapted into a CD Rom interactive movie. Duplicates, Playmates retitled The Maddening, and PIN have all been adapted into film. In 2007, he wrote the screenplay for V.C. Andrew's RAIN which was released on May 29, 200 7 in DVD nationwide.
Mr. Neiderman co-wrote the screen play of DUPLICATES, a USA cable movie of the week and later a novel by him. His stories have attracted some of Hollywood's biggest and most talented stars such as Al Pacino, Keanu Reeves, Burt Reynolds, Angie Dickinson, Mia Sara, Charlez Theron, John Hurt, Michael York, Cheryl Ladd, Cissly Tyson, Kevin McCarthy, Gregory Harrison, and Terry O'Quinn, Reuben Santiago Hudson. and Debbie Monk.